Benefits of Pressure Washing for Property Managers
As home prices rise, more people are choosing to delay the purchase of a home and continue renting. The good news for property managers is an expected increase in the number of people in search of rentals, but managers must also be concerned with retaining current tenants.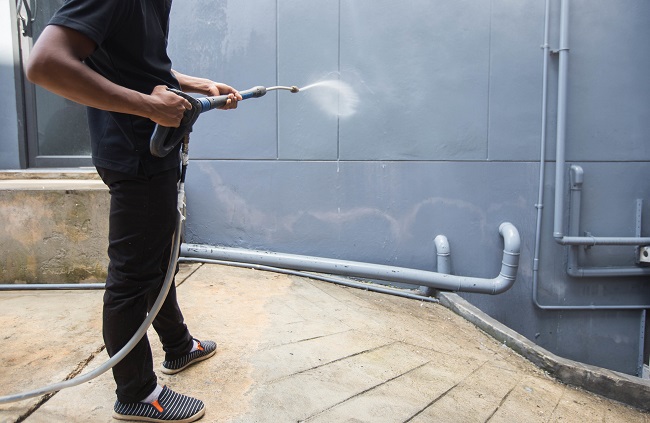 Qualified renters examine every aspect of a property when deciding where to live, from landscaping and outside building maintenance to common interior areas. A pressure washing service helps property managers and owners ensure that every detail appears inviting and attractive.
Entryways, walkways, and other areas that receive heavy foot traffic can get covered in dirt and grime which builds up over time. The exposure to harsh environmental conditions can leave building exteriors looking dull and dreary.
Professional pressure washing services utilize state of the art equipment and cleaning solutions assuring the removal of even the filthiest stains. A regular cleaning schedule will reduce vacancies by ensuring the property remains clean, attractive, and inviting to tenants and prospective tenants, increasing the value of the property.
Exterior pressure washing provides more than visual appeal. Keeping structures clean allows for thorough visual inspections which can identify structural issues before they become a severe problem. Pressure washing removes mold and algae which can be a health concern and when combined with moisture can make walkways slick and dangerous.
Regular pressure washing is a necessary part of any scheduled maintenance program and reduces maintenance costs by eliminating or exposing potentially costly problems. State of the art low-pressure "soft-washing" cleaning techniques eliminate the risk of exterior damage caused by high-pressure machines or unskilled operators. Parking lots, dumpster pads, entryways, and walkways maintain a fresh "like new" appearance providing curb appeal.
Pressure washing gives property owners and managers several measurable benefits and is a cost-effective way to attract and retain tenants. A professional pressure washing company has the experience and expertise needed to enhance any property.
To learn more about this or anything else contact us today.