Bring Your Home's Roof Back to Life!
At Sunny Pressure Washing, we specialize in providing top-quality, eco-friendly roof cleaning services that will leave your roof looking like new. Our team of trained professionals is dedicated to preserving the beauty, durability, and functionality of your roof while enhancing your home's curb appeal.
While Houston is an incredibly amazing city to live in and enjoy, there are some disadvantages to the climate that we, as select Houstonians, get to experience. If you are reading this, then you are probably already familiar with the black streaking that occurs on many roofs in the Houston Area. This phenomenon is called Gloeocapsa Magma, an algae-based bacterium that grows across your roof from spores that can travel a number of ways from roof to roof. This bacterium grows and thrives at a rapid rate because of our climate and causes a number of problems for homeowners like yourself.
Residential Roof Cleaning
As a homeowner, you may not think much about the condition of your roof until it starts to show signs of wear and tear. But did you know that regular residential roof cleaning is an important part of maintaining the health and longevity of your home? That's where Sunny Pressure Washing in Houston, TX comes in! We specialize in safe and effective roof cleaning services that can keep your home looking great and functioning at its best.
At Sunny Pressure Washing, we use a variety of methods to safely and effectively clean your roof, depending on the type of roofing material and the level of grime and buildup. Some common techniques include soft washing, which involves using low-pressure water and cleaning agents to gently remove dirt and grime, as well as pressure washing, which uses higher pressure and specialized nozzles to blast away stubborn stains and buildup.
So what exactly is residential roof cleaning? In a nutshell, it involves using specialized equipment and techniques to remove dirt, debris, and other unwanted materials from your roof's surface. This can include everything from leaves and branches to algae, moss and even bird droppings. Over time, these things can accumulate on your roof and cause damage if left unchecked. Not only can they create unsightly stains and discoloration, but they can also trap moisture and promote the growth of mold and mildew. Regular roof cleaning can help you avoid costly repairs down the line by identifying and addressing potential issues before they become major problems.
Versatility Meets Gentle Cleaning!
At Sunny Pressure Washing, we believe that every roof deserves the tender touch of our soft washing service. That's why our skilled technicians are trained to clean a variety of roof types, ensuring that every homeowner can experience the benefits of a pristine, well-maintained roof. Whether you have asphalt shingles, metal, tile, cedar shakes, or even a flat roof, we've got you covered! Our expertise in handling diverse roofing materials and our gentle soft washing technique guarantee that your roof gets the customized care it needs, all while preserving its integrity and beauty. So, go ahead and put your trust in Sunny Pressure Washing, where versatility and gentle cleaning come together to create a spotless roof for every home!
There is a lot to be said about the aesthetic value from having your roof cleaned. You want your home to look its best. But in addition to beauty, there is a lot that can be said about the financial aspect of roof cleaning, as well. The money that can be saved by sticking to a regular 5-year roof cleaning plan is a crucial aspect to consider.
Types of Residential Roofing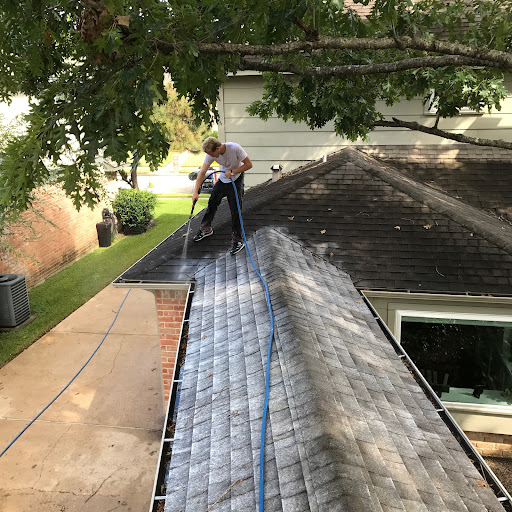 Asphalt Shingles: Asphalt shingles are one of the most popular roofing materials for residential roofs. They can be prone to damage in severe weather conditions, so it is important to maintain its quality with regular roof cleaning. Over time, asphalt shingles can accumulate dirt, debris, and even algae or moss, which causes discoloration, reduces the shingles lifespan, and compromises their structural integrity. Regular roof cleaning can remove the buildup and prevent damage to your roof. A low-pressure rinse or softwash method is often used to apply the solution to the roof and remove the buildup without causing damage. Sunny Pressure Washing has the knowledge, experience, and equipment necessary to clean your roof safely and effectively. We can inspect your roof for any signs of damage or wear, such as cracked or missing shingles, and recommend repairs or maintenance as needed.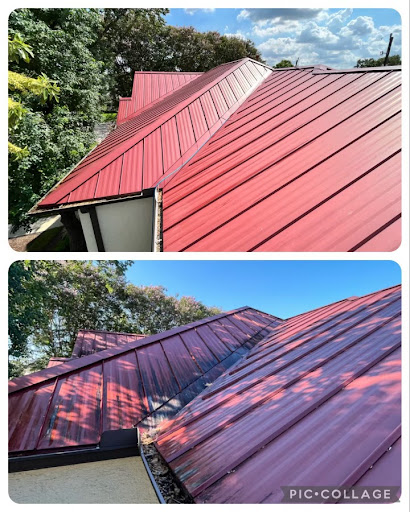 Metal Roofing: Metal roofing is durable, energy efficient, and long-lasting. It comes in a variety of styles, including standing seam, corrugated, and metal shingles. In addition to cleaning, a professional roof cleaning company like Sunny Pressure Washing, may apply a protective coating or sealant to the metal roof to help prevent future buildup and protect the metal from damage.
Tile Roofing: Tile roofing is made from materials such as clay, concrete or slate and is popular for Spanish or Mediterranean style homes. Regular tile roof cleaning can help to prevent damage to your roof. Buildup on the tiles can trap moisture, which can cause damage to the tiles and structure over time.
Wood Shingles or Shakes: Wood shingles or shakes are a traditional roofing material that are environmentally friendly and last many years if properly maintained. Different wood or shake roofs require different cleaning products. Sunny Pressure Washing will use the appropriate products for your specific roof type, taking into account factors such as the age and condition of the shingles or any damage.
Slate Roofing: Slate roofing is a premium roofing material that is known for its durability, longevity and attractive appearance. It can last a very long time if properly maintained. It is important to hire a professional roof cleaning company to ensure that the cleaning is done safely and effectively without damaging the slate tiles.
Sunny Pressure Washing for Residential Roof Cleaning
If you're in the Houston, TX area and in need of professional residential roof cleaning services, look no further than Sunny Pressure Washing. We pride ourselves on providing safe, effective, and affordable solutions that can help keep your home looking and functioning at its best. Contact us today to schedule a consultation and see the difference for yourself!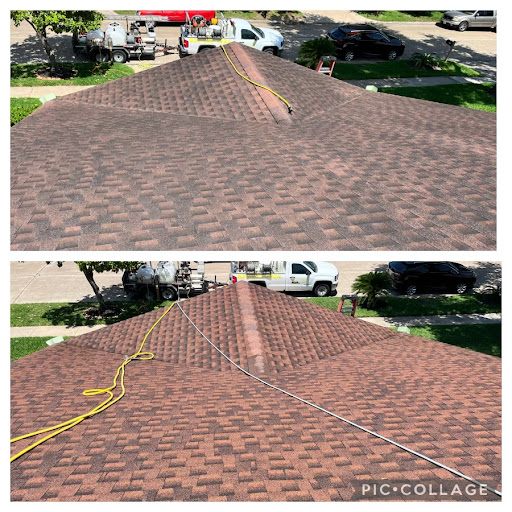 Restore the Beauty and Durability of Your Tile Roof
Tile roofs are known for their beauty, durability, and longevity. However, over time, these roofs can accumulate dirt, algae, moss, and lichen, which can not only impact their appearance but also lead to potential damage if not addressed. Regular tile roof cleaning is essential for maintaining your roof's aesthetics and structural integrity.
One of the most effective methods for cleaning tile roofs is soft washing. This gentle cleaning approach utilizes low-pressure water and eco-friendly cleaning solutions to remove dirt, algae, moss, and lichen without causing any harm to the tiles, grout, or surrounding areas. Soft washing is particularly suitable for clay, concrete, slate, and terracotta tile roofs, as it ensures that the roof's surface remains intact and free of damage.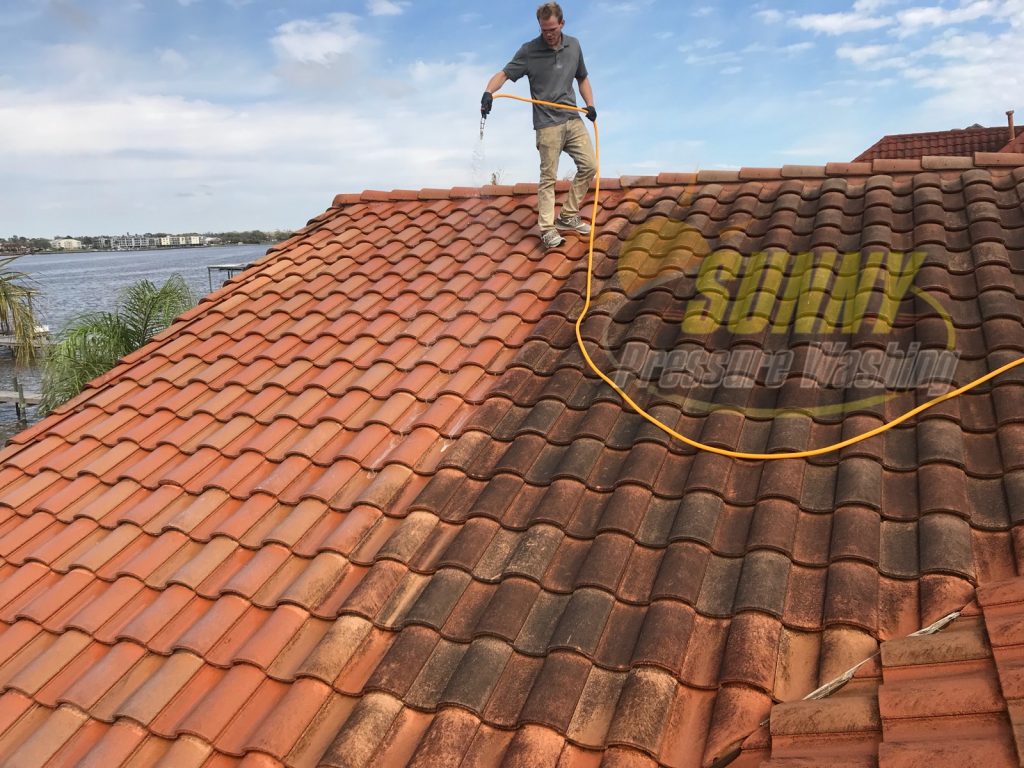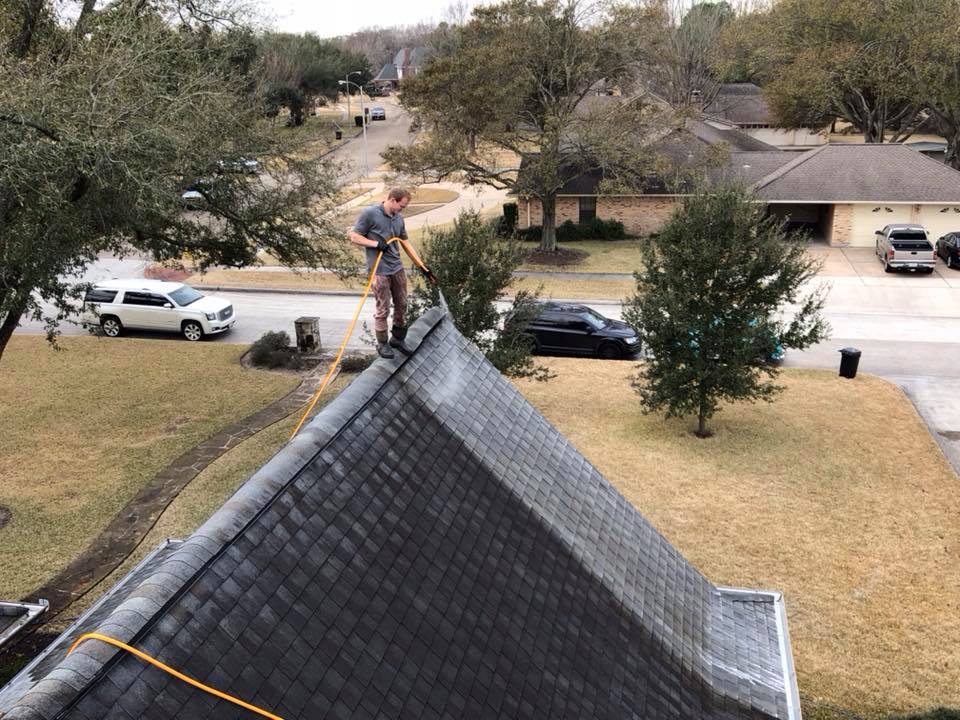 Houston, We Have a Shingle Solution
Shingle roofs are a popular choice among homeowners in the Houston area, but with the region's hot and humid climate, they can quickly become a breeding ground for algae, moss, and lichen. Fear not, Houstonians! At Sunny Pressure Washing, we have the perfect shingle solution for you. Our expert technicians are well-versed in tackling the unique challenges that shingle roofs in the Houston area face. Using our eco-friendly, gentle soft washing techniques, we effectively remove dirt and organic growth, restoring your roof's appearance and extending its life. So, whether you're in River Oaks, The Heights, or Clear Lake, count on us to keep your shingle roof looking pristine and well-maintained in the heart of the Bayou City.
Have Questions About Roof Cleaning?
At Sunny Pressure Washing, we understand that you may have questions and concerns about cleaning your roof. To help you make an informed decision and provide you with the information you need, we've compiled a list of frequently asked questions. In this section, we address common inquiries about our cleaning process, techniques, and the benefits of professional roof cleaning. If you have any additional questions or need further assistance, our friendly team is always here to help.
Get a Free Quote Today!
Don't wait any longer to give your roof the professional cleaning it deserves. Contact Sunny Pressure Washing today to receive a free, no-obligation quote for our top-notch roof cleaning services. Let Sunny Pressure Washing help you protect and beautify your home with our exceptional roof cleaning services!