Clean Gutters For Overall Building Maintenance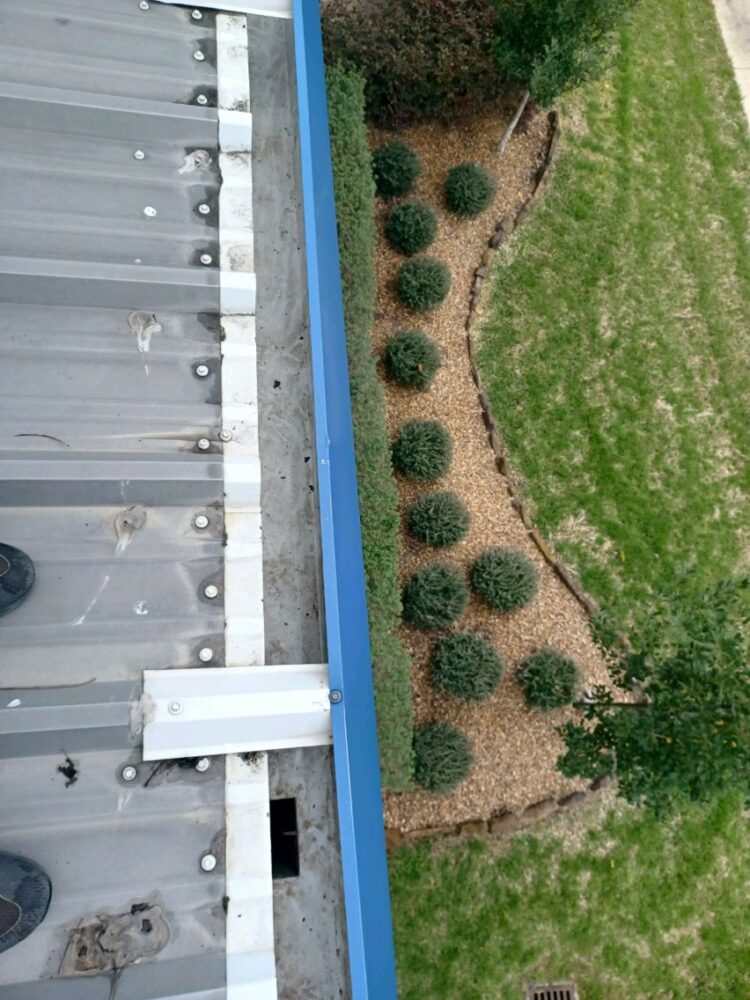 As a commercial property owner in Houston, TX, maintaining the cleanliness of your gutters is essential to the overall maintenance of your building. At Sunny Pressure Washing, we provide top-quality commercial gutter cleaning services to help you keep your property in top condition.
Why is gutter cleaning important?
Prevent Water Damage: Clogged gutters can lead to water damage on your property, including damage to your foundation, walls, and roof. By keeping your gutters clean and clear, you can help prevent these costly water-related issues.
Protect Your Property: Over time, clogged gutters can become heavy and pull away from your building, causing damage and potentially falling off completely. By regularly cleaning your gutters, you can avoid these risks and protect your property.
Improve Aesthetics: Clean gutters can improve the overall appearance of your building and enhance curb appeal. This can be especially important if you own a commercial property that customers or clients visit regularly.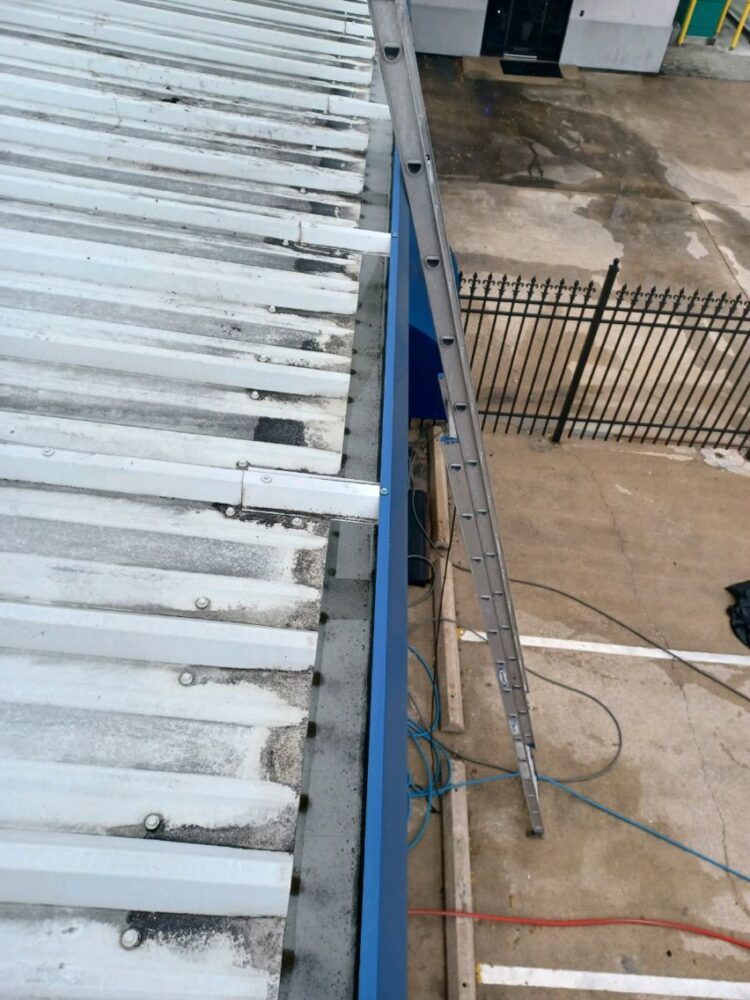 Why choose Sunny Pressure Washing for your gutter cleaning needs?
We are the best company to hire for commercial gutter cleaning in Houston, TX. Here's why:
Experience: Our team has years of experience in the industry and has honed their skills to deliver high-quality gutter cleaning services to our customers.
Safety: We prioritize safety in all of our work and take the necessary precautions to ensure that our team and your property are protected during the gutter cleaning process.
Efficiency: Our team uses specialized equipment and techniques to quickly and efficiently clean your gutters, minimizing disruption to your business operations.
Our team of professionals is fully trained and experienced in all aspects of gutter cleaning. We take pride in our attention to detail and our ability to customize our services to meet the unique needs of each of our clients. When you choose Sunny Pressure Washing, you can rest assured that your building will be in good hands.
Here are a some commonly asked questions about gutter cleaning:
Commercial Gutter Cleaning Process
The process for cleaning commercial gutters can vary depending on the specific needs of your property, but typically involves the following steps:
Inspection: The first step is to inspect your gutters to determine the extent of the buildup and identify any potential issues.
Clearing Debris: Next, our team will use specialized equipment to remove any debris or buildup from your gutters, including leaves, dirt, and other materials.
Flushing: Once the debris has been removed, we will flush your gutters with water to ensure that they are completely clear and flowing properly.
Downspout Cleaning: We will also clean out the downspouts to ensure that they are free from any blockages that could impede water flow.
Inspection and Repairs: After the cleaning is complete, we will inspect your gutters for any damage or issues that may need to be addressed, such as cracks or holes that could cause leaks.
Post-cleaning Cleanup: Finally, we will clean up any debris or mess that was created during the gutter cleaning process and ensure that your property is left in the same condition as when we arrived.
At Sunny Pressure Washing, we use the latest equipment and techniques to ensure that your gutters are thoroughly cleaned and maintained. Our team has the experience and expertise to handle any gutter cleaning job, big or small. Contact us today to schedule your commercial gutter cleaning service in Houston, TX.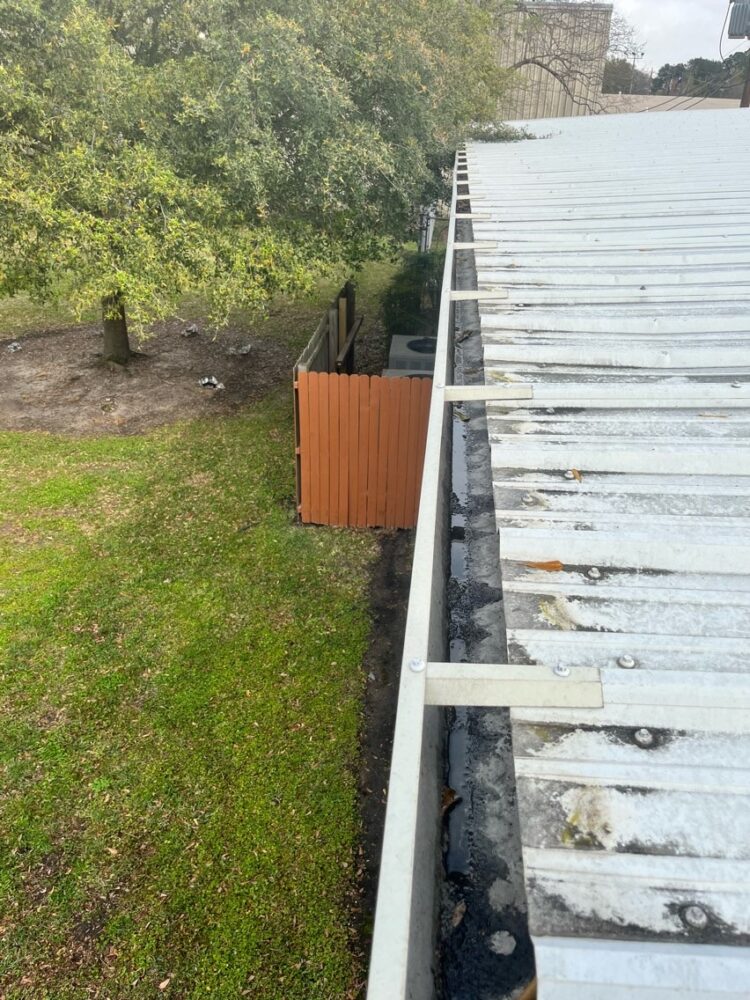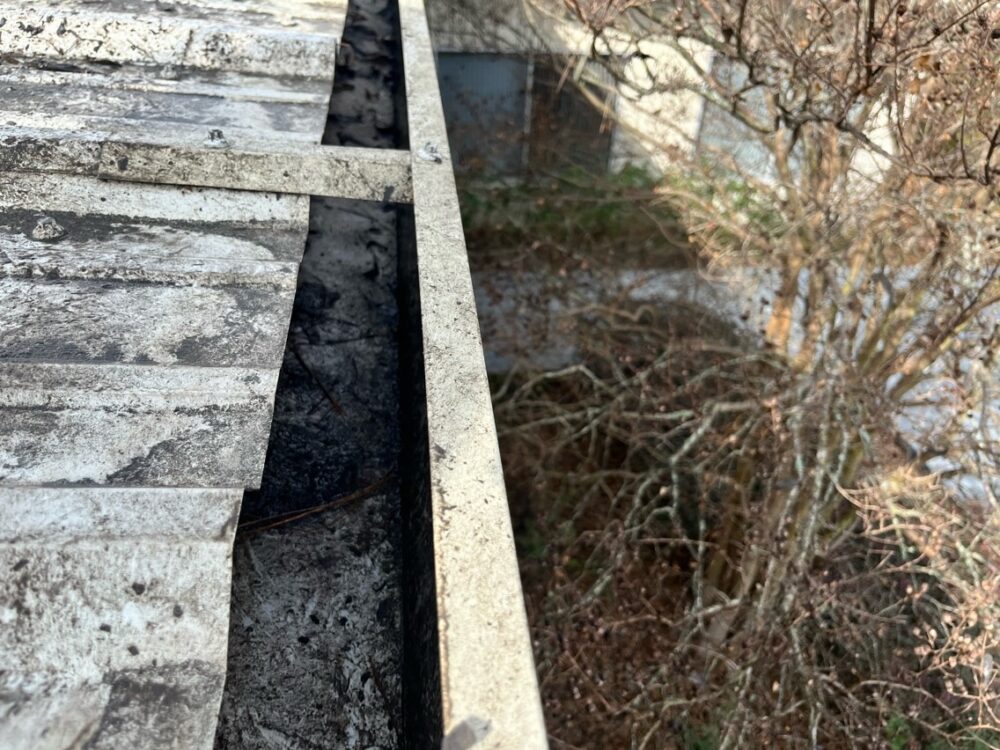 High Quality Gutter Cleaning Services
The best time to get your commercial gutters cleaned depends on a few different factors, including the climate in your area, the size of your property, and the amount of debris that tends to accumulate in your gutters. In general, it is a good idea to have your gutters cleaned at least once a year, although some properties may require more frequent cleaning.
At Sunny Pressure Washing, we recommend scheduling your gutter cleaning service in the late fall or early winter, after most of the leaves have fallen and before the winter weather sets in. This ensures that your gutters are clear and ready to handle any precipitation that comes their way during the winter months.
There are several reasons why Sunny Pressure Washing is the best company to choose for your commercial gutter cleaning needs. First, we have years of experience providing high-quality gutter cleaning services to businesses in Houston, TX and the surrounding areas. Our team uses state-of-the-art equipment and techniques to ensure that your gutters are thoroughly cleaned and functioning properly.
In addition, we are committed to providing excellent customer service and strive to exceed your expectations every step of the way. We understand that your time is valuable, which is why we work quickly and efficiently to get the job done right the first time. Plus, we offer competitive pricing and flexible scheduling options to make it easy for you to get the gutter cleaning services you need, when you need them.
If you're looking for a reliable and professional company to handle your commercial gutter cleaning needs, look no further than Sunny Pressure Washing. Contact us today to schedule your service and experience the difference for yourself!