Residential Gutter Cleaning
Residential gutter cleaning services are an essential aspect of home maintenance, especially in Houston, TX. With the city's frequent rain and tropical storms, gutters can become clogged with debris, preventing proper drainage and leading to damage to the home's exterior and foundation.
Residential gutter cleaning services typically involve the removal of debris, such as leaves, twigs, and other materials, from the gutters and downspouts. Sunny Pressure Washing uses specialized equipment, such as high-pressure water systems and vacuums to clean the gutters thoroughly. Before beginning a project, we will inspect the gutters for any signs of damage, such as cracks or holes, and make recommendations for repairs if necessary.
Houston Gutter Cleaning
Besides the overflow and proper drainage of rain water, keeping gutters regularly cleaned will lead to less headaches for homeowners down the road and, when it comes down to it, will work to save you a lot of money in the end.
Types of Gutters
K-style Gutters: K-style gutters are the most popular types of gutters for residential homes. They have a flat bottom and back, and the front has a decorative shape that resembles the letter "K".
Half-round Gutters: Half-round gutters have a curved shape that resembles a half circle and are typically used in homes with a traditional or historic architecture style.
Fascia Gutters: Fascia gutters are installed directly to the roof's fascia board and have a sleek, modern look. They are often used in contemporary style homes.
Box Gutters: Box gutters are built into the roof's eaves and are hidden from view.
Seamless Gutters: Seamless gutters are custom built on-site to fit the exact measurements of a home's roofline. The seamless aspect reduces the risk of leaks.
Copper Gutters: Copper gutters are a high-end option that are durable, rust-resistant, and develop a certain look over time.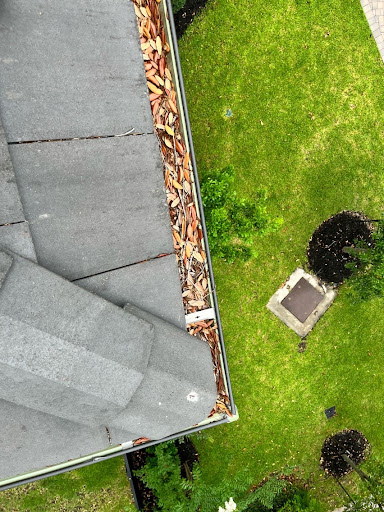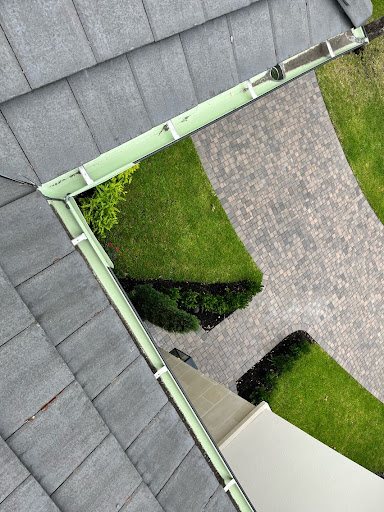 Why Gutter Cleaning is So Important
Some of the reasons that we strongly suggest homeowners take on a regular gutter cleaning maintenance program are:
Prevents Foundation Damage
Clogged gutters can lead to foundation damage. When gutters become clogged with debris, rainwater can overflow and seep into the home's foundation, causing cracks and other damage. This can be very costly to repair and can even compromise the structural integrity of the home.
Prevents Pests
Regular gutter cleaning can prevent insect infestations. Clogged gutters provide an ideal breeding ground for insects that can carry diseases. Regular gutter cleaning can prevent insect infestations and help protect the health of the home's occupants.
Increases Roof Lifespan
Gutter cleaning can extend the life of the roof. When gutters become clogged, water can back up and sit on the roof, leading to water damage and even rot.
Safety
Professional gutter cleaning is safer. Climbing a ladder to clean gutters can be dangerous, especially for homeowners who are not experienced with the task. Professional gutter cleaning services have the training and equipment necessary to safely and effectively clean gutters.
Affordability
Gutter cleaning is more affordable than repair or replacement. Regular gutter cleaning is more affordable than the cost of repairing or replacing damaged gutters or the damage caused by clogged gutters.
Aesthetics
Clean gutters improve the overall appearance of your home. When gutters are clogged and overflowing, they can create an eyesore, detracting from the beauty of your home.
Gutter Cleaning Customized to Your Location
Homeowners will not have to worry about keeping up with the cleanings (that's our job). We will work with you and decide together on what the best routine of gutter cleaning would be for you and your home, based on the different elements and factors relative to your specific area. If desired, we will suggest an ideal maintenance plan that would keep your gutters in great shape year-round.
Each local area is different. Some areas are more crowded with trees than others, and this means that your home might require more frequent gutter cleanings than your neighbor's home. While your neighbor in Spring might only have their gutters cleaned once a year, your home in the Woodlands will be at risk for gutter negligence problems every quarter because of the high concentration of pine needles and debris-producing trees.
Mosquitoes use the collected debris and trapped water to hatch and nest eggs. Because we are not usually at eye-level with gutters, we will easily overlook how clogged our gutters have become, thus creating the perfect breeding ground for all of the mosquitoes that try to eat us Houstonians alive. If you haven't been keeping your gutters properly maintained, your home just might actually be their favorite place around!
How We Clean Your Gutters and Downspouts:
The first step that we will take in beginning the gutter cleaning process is to inspect for any faulty or inferior features in the gutter's construction. This will help to protect ourselves, as well as have the opportunity to help you stay up-to-speed on everything going on with the gutter cleaning process.
Our cleaning begins with ascending to the roof or gutter line, then taking "before" pictures so that both our company and the homeowner are on the same page with the scope of work being performed. Following this step, we will begin to methodically remove all of the debris from the inside "bellies" of the gutters. This will be done by hand to make sure that we are able to get into every little nook and cranny, every crevice or crack that you might have within your gutter line.
Once we have removed the debris and placed it all on the ground, we will go back along the gutter line with a "spotter" from the ground to make sure that none of the debris is dripping or seeping onto the outside of the gutters. A lot of other gutter cleaning companies will overlook this part, but our technicians aim to be perfect in all of the services that we provide. For that reason, we will wipe any overspill or marks that come from our cleaning of the gutters.
Steps We Take To Clean Residential Gutters in Houston, TX
Inspection: One of our technicians will inspect the gutters and downspouts to identify any signs of damage or areas that require special attention. The technician will also identify any potential safety hazards, such as damaged gutters or electrical hazards.
Preparation: The technician will then prepare the work area by setting up ladders, safety equipment, and any necessary tools or equipment needed during the gutter cleaning process.
Debris Removal: The technician will remove any debris, such as leaves, twigs, and dirt, from the gutters and downspouts. This can be done by hand, vacuuming, blowing, or pressure washing.
Flushing: Cnce the debris is removed, the technician will flush the gutters and downspouts with water to ensure that all remaining debris is removed. This step also helps to identify any clogs or blockages in the downspouts that need to be cleared.
Inspection & Repair: After cleaning and flushing the gutters, the technician will inspect the gutter system for any signs of damage, leaks, or other issues that may need to be addressed. The technician will make recommendations for repairs or replacements as needed.
Cleanup: We will then remove all debris and equipment from the work area and ensure that the property is left clean and tidy.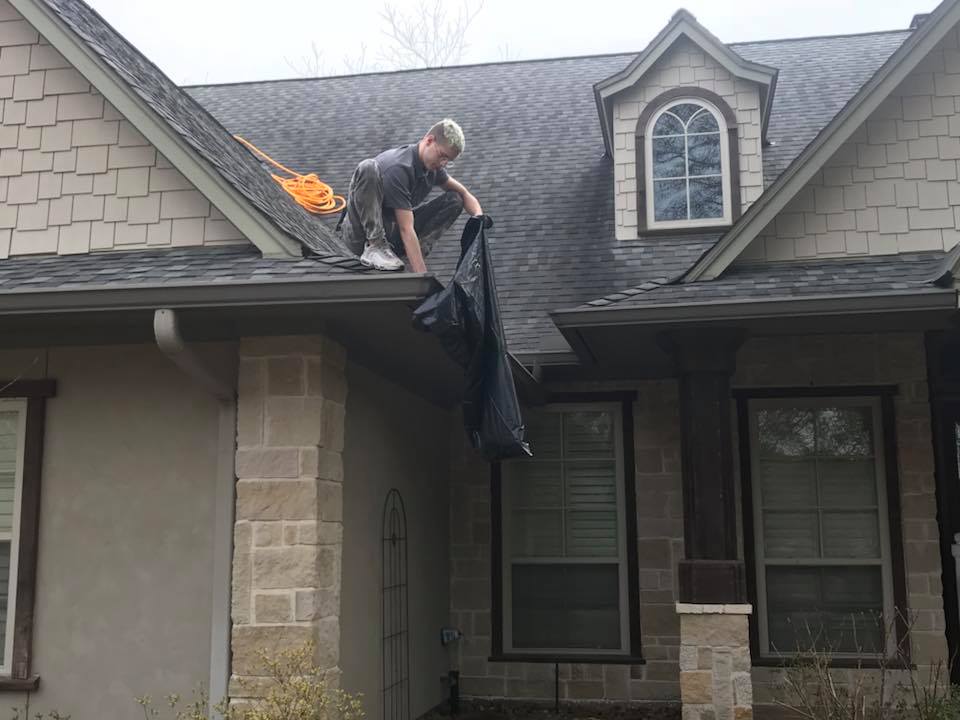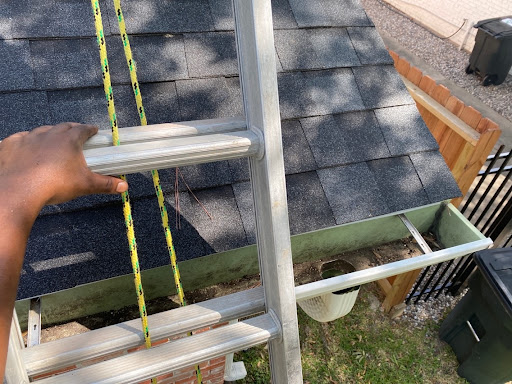 Following the removal of debris from the entire gutter line, we will check to make sure that there are no leaves or other items stashed in the valleys of the roof. If there are, we will remove those via broom and then make our descent back down to the ground.
Our technicians will work efficiently to rake up and place all of the fallen debris from your gutters into plastic bags. We will then load them up onto our trucks and have them carried away, so that you don't have to worry about them not being picked up by the regular trash service.
After everything is packed up and loaded into the truck, we will ascend to the roof one more time to take our "after" pictures so that you are able to see EXACTLY the level of quality service provided to you from our cleaning. We aim to provide the highest level of service possible and know that it can sometimes be hard to trust contractors. While understanding the stigma associated with contractors like ourselves, we aim to alleviate any qualms by placing you "right on the roof with us."
Have Questions About Gutter Cleaning?
Water overflow from the gutters during a rainstorm is a clear sign that your gutters are clogged and need to be cleaned. Also, sagging gutters that are pulling away from the house is a sign that the gutters are full of debris and have become heavy. This can cause damage to the gutter system and should be addressed right away. If you notice any pest infestations in or around the gutters, this is also a sign that they may be clogged and a breeding ground for pests. Another thing to watch out for is if you notice any damage to your roof, such as shingles that are missing or damaged. This could mean that the gutters are not functioning properly and need to be cleaned as soon as possible.
Professional Residential Gutter Cleaning
Regular gutter cleaning is crucial for maintaining the health and longevity of your home. By hiring a professional gutter cleaning company, you can ensure that your gutters are thoroughly cleaned, inspected for any potential issues, and properly maintained. At Sunny Pressure Washing, we provide high-quality gutter cleaning services in Houston, TX and the surrounding areas. Contact us today for a free gutter cleaning quote and let us help you get your home in great shape!