With such a heavily populated city as Houston, TX, there is bound to be a time when your property falls victim to the hands of a vandal. Graffiti is never a welcome addition to any commercial property and can act as a major deterrent to first-time visitors who are sizing your company up by your exterior presentation. Sometimes this act of vandalism is minimal and may only require a small amount of cleaning and restoration, but many times the damages are quite substantial and requires a professional to estimate just how much time and effort it will take to have the graffiti properly removed. It is at this point that you need to be able to call on a trustworthy resource who can take care of this problem both thoroughly and swiftly, and you can rest assured that Sunny Pressure Washing has the knowledge, cleaners, and equipment to get your property restored back to its original state and better!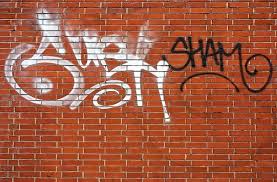 Our pressure washing method acts in a way that breaks down the exterior surface enough to remove the pesky graffiti yet protects the original surface material from being damaged in the process. Our specific blend of chemicals is paired with a high pressure stream to ensure that an intense and efficient cleaning will be completed, and our team of experts have a long track record of amazing our clients with outstanding results. We take great care to respect your property and leave it in better condition than when it was found, always cleaning up after ourselves and doing what we can to make sure that every inch of the exterior of your building is free of graffiti.
Just as the image and reputation of our company is of vital importance to us, we know the same to be true about you and your commercial investment. When it comes to unexpected graffiti plastered all over your building, time is of the essence. That is why we do everything in our power to deliver quality service in a timely and cost-effective manner. You have no way of knowing if and when such an act of vandalism will occur, but you do have the capability to keep the right company in mind if such an unfortunate event occurs.
Give us a call, and we would love to visit with you more about all that we have to offer through our commercial pressure washing services. We know that you will be met with the highest quality of care and concern!