We all know that making a good first impression is of vital importance when it comes to securing new clientele and growing your business. You want to make certain that you are offering the best when it comes to quality products and customer satisfaction, and the same manner of thinking should apply to the way in which you maintain the cleanliness of your commercial property here in beautiful Houston. In considering all that needs to be done to tend to the aesthetics and overall appearance of your business, you will want to be sure that the initial view that customers take in is not that of a dirty parking lot! When you work so hard to keep the interior and exterior of your building looking fresh and alluring, you do not want to run the risk of losing potential sales all because of that filthy patch of concrete that surrounds you.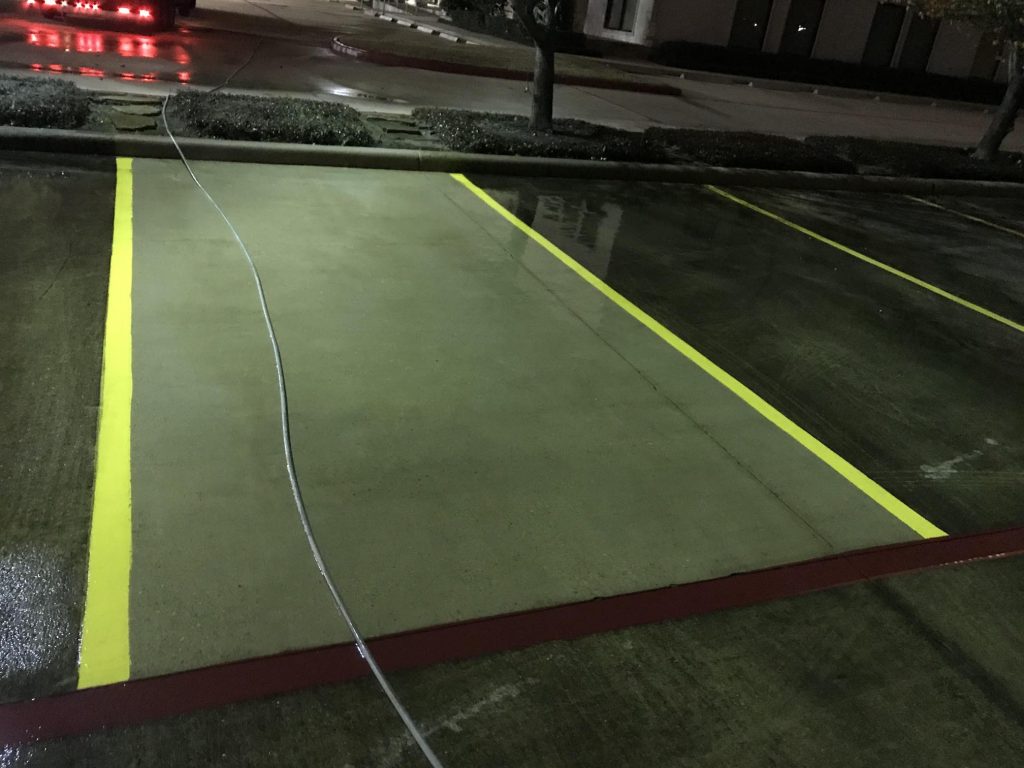 At Sunny Pressure Washing, our trained and professional technicians are armed with state of the art equipment that can easily clean anywhere from 50,000sf to 150,000sf in a single night. We invest massive amounts of both time and money into acquiring and maintaining the highest quality equipment that is offered in our industry. Over time, every commercial parking lot becomes the victim of countless spills and stains, from vehicles that are leaking fluids to customers who are spilling their coffee and soda or spitting out their gum on the way into your doors. The wear and tear that a parking lot receives really begins to add up over time, and many property owners may be left with the idea that any semblance of cleanliness is now a lost cause. We, however, beg to differ in that respect.
Our many satisfied customers are continually amazed at just how drastic the results can be when a pressure washing treatment is applied to the hard surfaces of their driveways, sidewalks, parking lots, and more. Our specific cleaning method combines a blend of chemicals with a pressurized force that digs into the surface and works to remove even the most difficult of messes. This powerful and effective treatment will make radical changes in the way in which your business is perceived and subsequent referrals and recommendations are made. If a property owner is pouring time and attention into the upkeep of something as seemingly inconsequential as cleaning of the parking lot, then you know that the quality of care placed on their products and services is taken very seriously.
We take our business very seriously, as well, and that is why we know that you will be pleased with our cleaning efforts when it comes to your commercial property. Visit us online to learn more about our services and to receive a free quote!