It's no secret that Houston's sweltering weather and humidity form the perfect breeding ground for both algae and mold to grow on the exterior of your home. With that said, why do so many homeowners neglect to keep this surface clean? Great care is taken to ensure that the interior of their home stays in great condition, both for their own enjoyment and for hospitality purposes, yet we believe that the exterior of the home should be given the same amount of precise care and consideration.
Residential pressure washing is a crucial aspect of home restoration and longevity to be considered by property owners all across the Houston area. Whether you are preparing your home to be put on the market or are settling into the place where you will put down roots, it is important to consider all the problems that the aforementioned mold and algae can bring to the surface of your beautiful investment. If left untouched, the exterior of your home will suffer greatly in ways beyond basic aesthetics because repairs and maintenance procedures will end up becoming more frequent and costing you progressively more and more money. However, many struggle to know where to start in trying to clean and resurrect the outer surface of their home? There are so many different materials to think about and so many potential dangers involved in using abrasive chemicals that might end up doing more harm than good. By choosing a professional cleaning resource, you are letting yourself off of the hook for all of the necessary research involved with determining which cleaning agent should be used on which element of your home.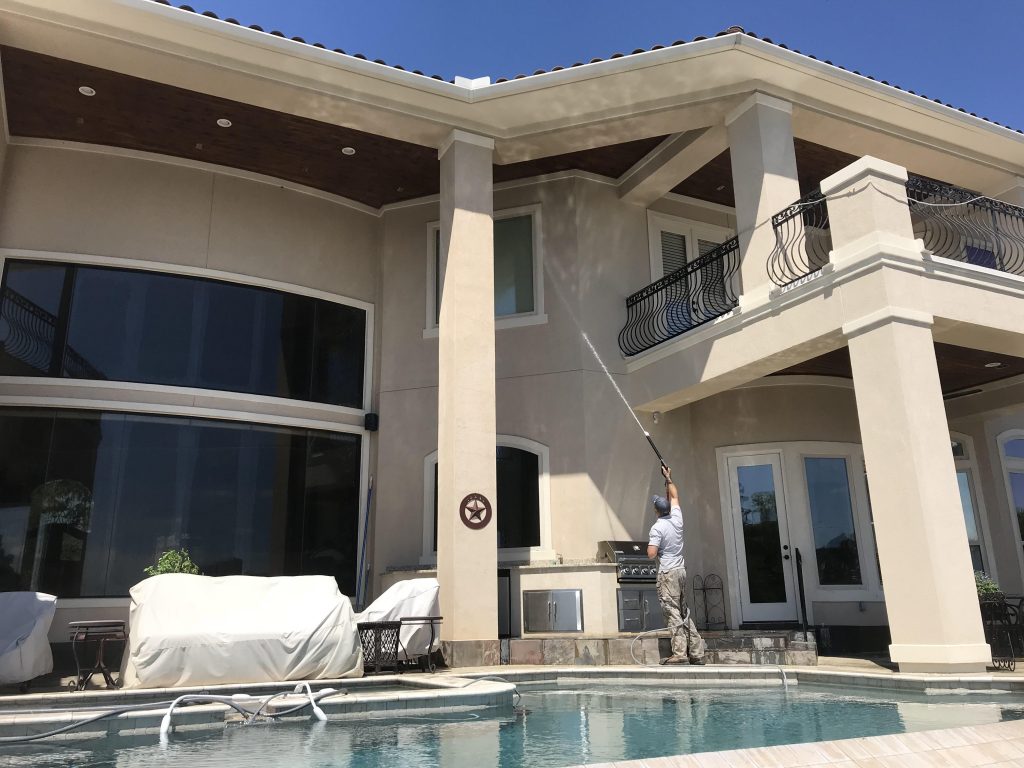 With advances in the latest cleaning methods, Sunny Pressure Washing offers the perfect solution to caring for your home by bringing a professional level of clean without risking any material destruction in the process. We are committed to staying tuned in to all of the latest advancements in cleaning and home care, allowing us to give each of our customers the best possible experience and the highest level of clean. Our low-pressure "soft-washing" method is utilized by each of our residential teams to clean your home while keeping the surface material safe in the process. Our cleaning methods and detergents will effectively restore stucco, brick, hardiplank, vinyl, aluminum, and more back to its original beauty! The specific detergents and surfactants that we use create the right blend of chemicals will dig deep into the filth and grime that exist on your home's exterior and then be easily rinsed away. This process ensures the thorough elimination of that pesky mold and algae yet will NEVER damage your home!
We believe strongly in our house washing process, and we have seen many of our satisfied customers stand amazed at just how drastic of a difference only one cleaning makes in the curb appeal of their home. Call us today for a free quote and allow us the pleasure of getting started in giving your home the professional clean that it deserves!