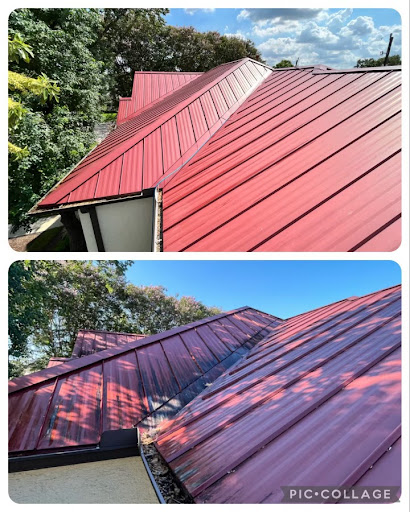 Are you in need of a professional metal roof cleaning service? Look no further! Sunny Pressure Washing is your trusted residential and commercial pressure washing company, specializing in expert cleaning and maintenance for metal roofs. With our state-of-the-art equipment and highly trained team, we are committed to delivering exceptional results that will enhance the longevity and appearance of your metal roof.
Why Clean Your Metal Roof?
Over time, metal roofs can accumulate dirt, debris, algae, moss, and other organic growth, compromising their aesthetic appeal and performance. Regular maintenance and cleaning are crucial to preserving the integrity of your metal roof and preventing potential damage.
At Sunny Pressure Washing, we employ industry-leading techniques and advanced equipment to deliver outstanding metal roof cleaning results. Here's an overview of our process:
Inspection: Our experienced team will assess the condition of your metal roof, identifying any specific problem areas or concerns. We'll discuss our findings with you and recommend the most suitable cleaning approach.
Preparation: Prior to cleaning, we take precautions to protect surrounding areas and landscaping, ensuring that no damage occurs during the process. We also consider any safety measures necessary to guarantee the well-being of our team and your property.
Cleaning: Using our specialized pressure washing equipment, we apply a gentle yet effective cleaning solution to break down dirt, grime, and organic growth. This step eliminates contaminants while being mindful of the integrity of your roof.
Rinsing and Final Inspection: We thoroughly rinse the roof to remove all cleaning residues, leaving behind a spotless surface. Our team conducts a final inspection to ensure that your metal roof is clean, free of debris, and in optimal condition.
Experienced Metal Roof Cleaning
When it comes to metal roof cleaning services, we stand out for several reasons. With years of experience in the pressure washing industry, we have honed our skills and knowledge to deliver exceptional cleaning results for metal roofs. Our team consists of highly trained professionals who understand the intricacies of metal roof cleaning. They are dedicated to providing top-quality service and exceeding customer expectations. We utilize cutting-edge pressure washing equipment and eco-friendly cleaning solutions to ensure thorough cleaning without causing any damage to your roof or the environment. Finally, we prioritize customer satisfaction above all else. Our friendly team is committed to addressing your concerns, answering your questions, and providing a seamless and stress-free experience.
Professional Roof Washing
Schedule Your Metal Roof Cleaning Today!
Don't let a dirty metal roof compromise the integrity and beauty of your property. Contact us today to schedule your professional metal roof cleaning service. Our experts are ready to assist you and restore your roof to its former glory. Trust us for reliable, efficient, and high-quality metal roof cleaning that will leave you impressed.