Here at Sunny Pressure Washing, we go above and beyond to meet our customer's needs. Setting the industry standard in service is our #1 objective. Our company believes in convenience, professionalism, integrity, tenacity, knowledge, and relationships. Our team focuses on providing homeowners, property managers, developers, and agents a way to achieve the highest level quality of exterior cleaning in the most service-oriented, reliable, and professional way. It is our promise to you to not let anything slip in between the cracks when it comes to customer service and being a company that you can depend on. We want to give our customers the "package deal" when it comes to exterior cleaning and this is why our spectrum of services is so broad. We now offer our convenient services in the Stafford, TX area.
Pressure Washing Services in Stafford, Texas
Backed by our Spray Wash Academy certification, our team is equipped with knowledge, power, skill, and determination to deliver the best possible service to you. Experience the difference with Sunny Pressure Washing today! We won't stop until we have served all of Stafford, TX!
Stafford, TX Power Washing
For both commercial and residential customers in Stafford, we offer the equipment, tenacity, knowledge, and customer service to go above and beyond in exceeding your expectations and level of satisfaction. Pressure washers are powerful machines and should not be underestimated. Using them improperly can result in permeable damage to your home or property that can cost up to tens of thousands of dollars in repairs. Also, pressure washing and exterior cleaning will almost always call for the application of cleaning chemicals. This means that the proper knowledge and ability to utilize these cleaning solutions is a vital part of a safe cleaning experience. Read our FAQs
Residential Pressure Washing Services
Sunny Pressure Washing's safe, proven, and effective house washing methods will leave you feeling better and your home looking great! Give us the opportunity to come out and show you firsthand how effective our pressure washing methods are by scheduling a free estimate.
House Washing
Roof Cleaning
Gutter Cleaning
Fence & Deck Cleaning
Driveway & Sidewalk Cleaning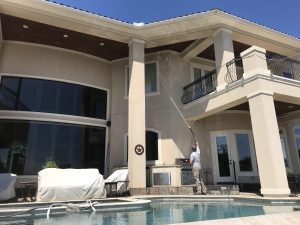 Commercial Pressure Washing Services
Over time, dirt and debris will naturally accumulate along the exterior of your building. Unfortunately, if not cleaned off regularly, this can lead to discoloration and staining of porous materials such as brick and stone. When you have your building pressure washed, however, you can remove layers of dirt and debris build-up that may otherwise make your storefront appear drab and dingy. With this fresh new look, you might even boost your overall curb appeal and drive additional foot traffic to your Stafford business!
Shopping Strips
Building Washing
Graffiti Removal
Rust Removal
Parking Lot Cleaning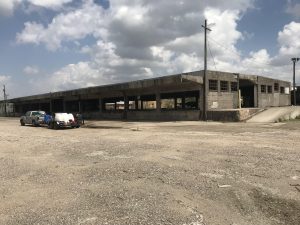 Stafford Roof Cleaning
Much like the exterior of homes, Stafford roofs are especially susceptible to having mold spores land on them and continue to spread until the entire roof is covered in black streaks and stains. Our low-pressure roof cleaning methods will effectively treat and kill all of these mold spores, returning your roof to its original state without you needing to spend even a tenth of the money it would cost to replace it!
High-pressure cleaning removes mold and growth with brute force. Unfortunately, this often may cause damage to the surface. Soft washing is a much gentler method that shows results within minutes. We will NEVER USE HIGH-PRESSURE to clean your roof. Our technicians utilize a 12-volt "soft wash" system that ensures your roof is treated with only the most effective cleaning agents and is absolutely never put in harm's way. This method stands the test of time and upholds a long-lasting quality for your roof.